Welcome to CMC Technologies
CMC Technologies (CMC), established in 1999 in Sydney, Australia, supplies industrial instrumentation for all industries and represents reputable manufacturers from Europe, the United Kingdom, the USA, South Korea, Japan, and China. CMC provides solutions in the fields of Explosion Prevention and Protection, Pressure Relief, Fire Protection, Flow Measurement, Vision in the Process, and Process Instrumentation.
Our facility in Alexandria, NSW is very close to Sydney Airport. We hold stock including, but not limited to, selected Mid-West Instrument differential pressure gauges and switches, Mid-West Instrument Backflow Test Kits, Brilex explosion vents and sensors, Hoerbiger EVN Flameless Explosion relief valves, FDC rupture discs, IEP Technologies explosion suppression, and explosion isolation systems, Lumiglas luminaires, Lumiglas sight glasses, KITO flame arresters and Pressure relief Valves, Metaglas metal fused sight glasses, Advanced Couplings sanitary clamps and ferrules, Sparksafe and Alptec static earthing clamps, earthing cables, and earthing/grounding systems, fixed and portable ultrasonic flow meters, Eldridge and Delta-M Thermal mass flow meters and flow switches, Smartmeasurement Flow meters, T & D Temperature and Humidity Data Loggers, Comet Temperature, Humidity, CO2, Dew Point, Atmospheric Pressure Sensors, dataloggers, and Transmitters.
Any items not in stock are ordered from our extensive network of manufacturers around the world with varying lead times based on their stock levels and the complexity of your product. We employ qualified Chemical and Mechatronic Engineers in our Sales and Technical Support services.
Brilex Explosion Vents and Hoerbiger EVN 2.0 and EVN 3.0 Explosion Relief Valves now come under one banner – IEP Technologies – Hoerbiger Safety Solutions. CMC Technologies continues with over 20 years of distribution of Brilex explosion Vents in Australia and New Zealand and now is responsible for the Hoerbiger EVN Sales as well.
CMC Technologies also specialises in supplying high-quality vaccine monitoring data loggers.
Proper temperature monitoring equipment is crucial for the safe transport of vaccines. Different vaccines have varying temperature upper limits for storage and transport. Real-time monitoring capabilities are necessary to ensure the integrity of vaccines during transport.
Please find out more about vaccine monitoring data loggers by contacting us.
Explosion Protection
Dust explosions can be very dangerous and can cause significant damage to property and harm to individuals. In order to prevent and protect against dust explosions, it is important to implement appropriate measures, such as those provided by CMC Technologies.
These measures can include explosion venting, which allows the pressure from an explosion to be safely released, explosion suppression systems, which use inert or food-grade chemicals to extinguish an explosion, and passive and active explosion isolation, which can prevent an explosion from spreading to other areas.
Additionally, flame and smoldering fire protection, static earthing, spark detection and extinguishing, and emergency inerting can all help prevent fires and dust explosions.
Finally, dust explosibility testing (eg for Pmax, Kst, MIE, MEC, etc) can help identify the potential for a dust explosion in a particular process and allow for appropriate preventative or protective measures to be put in place.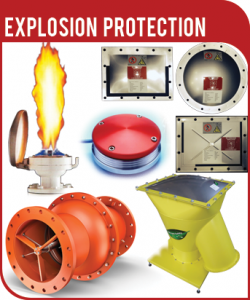 Pressure Relief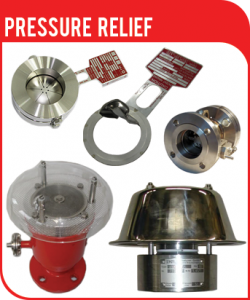 All pressurised systems, conforming to the appropriate National and International standards, are limited to a maximum overpressure during pressure relief. Applicable standards such as AS1210, AS1358 , ISO 6718, and ASME VIII apply in many cases when using Rupture Discs and other Pressure Relief Devices,
CMC Technologies provides pressure relief solutions for safe and instantaneous pressure relief for over-pressure situations in a diverse range of applications and industries with the supply of Rupture discs, Pressure and/or Vacuum Relief Valves emergency relief vents, and Pseudo Pin Relief Valves.
Fire Protection
CMC Technologies provides fire protection solutions via KITO flame arresters, Robecco Smouldering fire detection (CO Detection for Spray Dryers) and T and B Electronic Spark Detection and extinguishing systems, IEP Technologies post-explosion fire protection systems, and robecco-Yarra emergency inerting systems.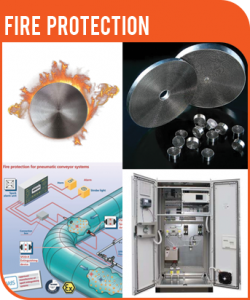 Vision in the Process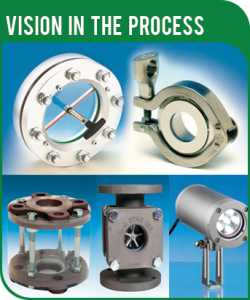 The inspection and monitoring of vessels and pipelines require the use of equipment such as sight glasses, lights (luminaires) and vessel cameras, sight flow indicators, and various fittings, including specialised sanitary/aseptic fittings (pharmaceutical grade tri-clamp connections, ferrules, and gaskets).
Often the vessels requiring vision are naturally dark and our sight glass lights/luminaires can be used to increase the visibility within the vessel.
CMC Technologies provides solutions for sight glass discs & fittings, lighting, cameras, sight flow indicators, and level gauges. We are also able to cater for sanitary/aseptic/hygienic applications with sanitary fittings, clamps, and indicators.
Flow Measurement
Flow meters for liquids, gases, and steam can be measured in a variety of different ways depending on the medium and process. We supply volumetric flowmeters as well as mass flowmeters.
We supply flowmeters utilising the following measurement technologies: Coriolis mass-flow meters, differential flow meters (orifice plates, delta-tubes averaging pitot tubes, venturi, cone), electromagnetic flowmeters (known also as magnetic flowmeters), open-channel flow meters, positive displacement flow meters, thermal mass flow meters, thermal flow switches and level switches, turbine flow meters, ultrasonic flow meters, variable area flow meters, and vortex flow meters.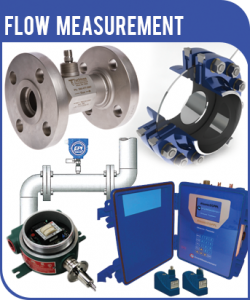 Process Instrumentation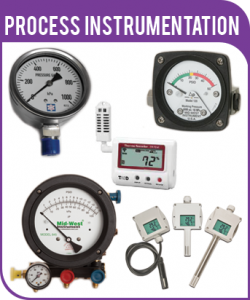 CMC Technologies supplies differential pressure gauges (DP Gauges), Differential Pressure Switches (DP Switches), Differential Pressure Transmitters (DP Transmitters), Pressure Gauges, Pressure Switches, backflow prevention valve test kits (backflow test kits) and their annual calibration check and certificates, temperature data loggers, temperature transmitters, Humidity data loggers and Humidity transmitters voltage data loggers, Wireless data loggers, Air Filters and Air Dryers and on-line liquid analysers.