KITO Armaturen – Flame Arrestors / Flame Arresters – Made in Germany
KITO flame arresters have been developed in accordance with the requirements of the latest regulations and standards to enhance process safety. A flame arrester is a safety device designed to prevent the flame of an explosion from entering or leaving a pipe or vessel or to prevent it from traveling further down a pipe. The greatest dangers are involved with the transport of flammable liquids or gases that if ignition occurs, will result in a fire or explosion. The flame arrester is fitted to the opening of an enclosure or to the connecting pipework of a system of enclosures and whose intended function is to allow flow but prevents the transmission of a flame. It is used where the flame burns in air and has no moving parts to stop flame transmission. The most common applications are found on storage tanks at refineries and terminals where bulk petroleum products are stored. End-of-line arresters are located on the top of the tanks while inline arresters are located in the piping for example of vapour recovery systems. Other common applications are on flares. Essentially any process that stores flammable liquids is at risk of a safety incident and flame arresters are used to protect that process.
WANT MORE TECHNICAL DETAILS? DOWNLOAD OUR DATASHEET.
A complete range of in-line deflagration flame arresters, detonation flame arresters, and end-of-line flame arresters with many options for reliable protection against flames in hazardous environments. Determining the location of the possible initial source of ignition is the key to selecting the correct flame arrestor. Otherwise, the flame arrester may not work when an accident occurs. One example can be when applying a flame arrester for "pre-volume" applications. In this case, the ignition of the explosion occurs inside a vessel and propagates via the ducting. Flame arresters for pre-volume applications need to be tested and certified specifically for the application. Typical pre-volume applications are found in diesel engine applications in mining vehicles and equipment.
On April 18, 2016, KITO Armaturen appointed CMC Technologies as their exclusive distributor for Australia, New Zealand, and Oceania Island Nations.
INTERESTED OR HAVE QUESTIONS? GET IN TOUCH WITH US NOW!
Typically a flame arrester comprises a housing (body), an element, and connection(s) to secure i to the pipework or equipment. The flame arrester element is the device that quenches the flame and the majority of flame arrester constructions incorporate a form of "filter eg crimped metal ribbon" that provides small apertures through which the process gas will flow but will prevent flame transmission. The flame front is broken down into smaller flamelets which are cooled by the large heat capacity of the element, thus extinguishing the flame. Due to its construction, the element will cause a pressure drop or an obstruction to the process flow. This characteristic can often be a problem and to compensate, flame arrester designs incorporate a larger element area than the cross-sectional area of the pipework thus reducing the total pressure drop. Larger elements also have a greater heat capacity.
WANT MORE TECHNICAL DETAILS? DOWNLOAD OUR DATASHEET.
Flame arrester elements (crimped ribbon types – made of metal) consist of two stainless steel (or better) strips of 0,2 or 0.15 mm of thickness; the width varies depending upon the duty. In each case a smooth and a corrugated strip are wound tightly together, forming a circular element. This forms a gap between the smooth and corrugated strips with a triangular section. The width of the gap is determined by the height of the corrugation. The gap width used in a specific flame arrester is related to the MESG of the gas mixture, but not equal to it.
INTERESTED OR HAVE QUESTIONS? GET IN TOUCH WITH US NOW!
Special widths for gas/air or vapour mixtures with abnormal flashback characteristics can be determined with the cooperation of test institutes like PTB, BAM, or IBExU, and manufactured by ourselves. The flame arrester may also be CE marked during this verification procedure.
The housing of the flame arrester can be integral with or separate from the element housing in which the latter case (when tested and certified) it would all be joined together with fastenings. The connections are usually either flanged or screwed fittings to match the adjacent pipework.
INTERESTED OR HAVE QUESTIONS? GET IN TOUCH WITH US NOW!
Available Flame Arresters from Kito
KITO specialises in the design, specification, and manufacture of deflagration and detonation flame arresters. These flame arresters are passive explosion protection devices with no moving parts, designed to offer reliable protection in areas where flammable gas is being transported, or a flammable liquid is being stored.
In-Line Deflagration Flame Arresters (Gas and Vapour)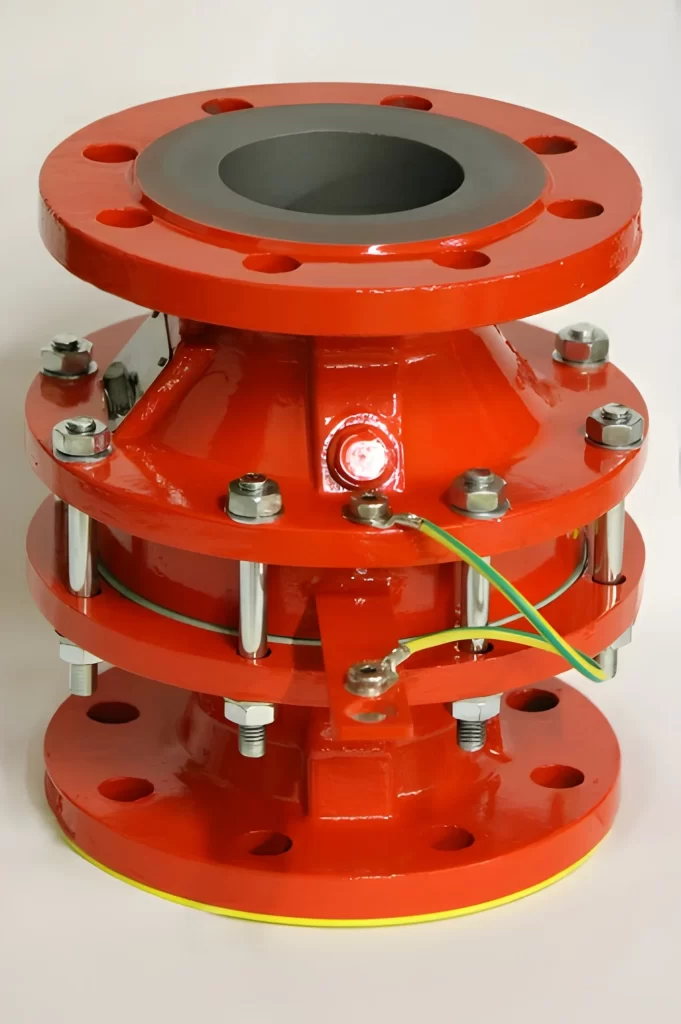 KITO® inline deflagration flame arresters are used to prevent explosions from spreading to connected equipment. These flame arresters are specifically designed for short sections of pipelines between the potential ignition source and the device. The length of the pipeline is determined by the L/D ratio and varies based on the explosion group.
By considering factors like pressure, temperature, and explosion group, the appropriate deflagration flame arrester can be chosen for a specific application. In certain situations, such as flare lines or thermal incineration plants, it is recommended to install thermocouples on the KITO® flame arrester to detect fires.
In-Line Detonation Flame Arresters (Gas and Vapour)
When potentially explosive gas-air mixtures ignite in a pipeline, a deflagration can transform into a much more powerful detonation. To deal with this situation, KITO® offers inline detonation flame arresters. These products are specifically designed to handle the increased pressure and flame speed associated with detonations.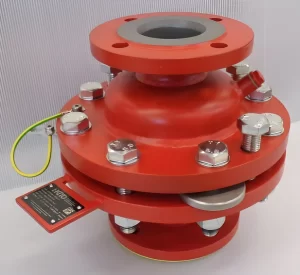 The KITO® flame arrester can effectively arrest the flame front after the shock wave. The selection of the appropriate detonation flame arrester depends on the explosion group classification and the maximum operating parameters for pressure and temperature. KITO® provides detonation flame arresters for all explosion groups in various applications. The installation position and flow direction of these flame arresters are flexible, as they are designed to offer protection in both directions. KITO® flame arresters are designed to minimize pressure losses and feature an affordable modular design. Liquid detonation flame arresters are primarily used in pipelines transporting liquids, while detonation-proof foot valves are exclusively used in suction lines for liquid transport.
INTERESTED OR HAVE QUESTIONS? GET IN TOUCH WITH US NOW!
In-Line Combined Pressure and Vacuum Relief Valves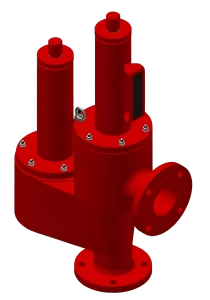 KITO® inline pressure and vacuum relief valves are used to prevent excessive positive and negative pressure in closed systems. These valves are important in reducing product evaporation losses and emissions. They are typically installed in piping systems and technical process equipment to safely relieve increased positive or negative pressures.
Combined KITO® inline pressure and vacuum relief valves aim to minimize product losses and emissions. By using these valves, significant cost savings can be achieved by reducing evaporation losses based on process conditions.
The valve pallets in the combined KITO® inline pressure and/or vacuum relief valves can be weight or spring-loaded, depending on the desired set pressure. Different valve sealings are used to ensure a low leakage rate between the valve seat and pallet, depending on the valve type and pressure settings. KITO® utilizes proportional valve pallets in their inline pressure and vacuum relief valves, ensuring stable opening and closing operations through the dynamic build-up of backpressure in the piping system.
INTERESTED OR HAVE QUESTIONS? GET IN TOUCH WITH US NOW!
End of Line Flame Arresters
The KITO® end of line devices, which come in variations with and without an integrated KITO® flame arrester. These devices have a wide range of applications and are designed to address specific customer processes. They are particularly used to enable tanks to release flammable gases safely and protect against flashback from external sources.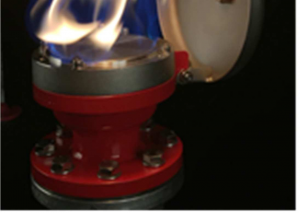 The main purpose of these devices is to protect storage tanks and pipeline systems. They play a crucial role in securing openings on storage tanks that release or intake gases into the atmosphere. By preventing flashbacks from the atmosphere into the tank, these end of line devices ensure the safe storage of flammable fluids. They are also commonly used on venting lines that discharge to the atmosphere.
The KITO® end of line devices are categorized into different types:
Ventilation hoods (found in catalogue chapter B)
Pressure relief valves (found in catalogue chapter C)
Vacuum relief valves (found in catalogue chapter D)
Pressure and vacuum relief valves (found in catalogue chapter E)
Please download the Kito Catalogue below more more details about different end of line devices.
WANT MORE TECHNICAL DETAILS? DOWNLOAD OUR DATASHEET.
Some of these end of line devices come with an integrated KITO® flame arrester. These devices are specifically designed to address different combustion processes. They provide protection against atmospheric deflagration, as well as short-duration and sustained burning.
INTERESTED OR HAVE QUESTIONS? GET IN TOUCH WITH US NOW!